#20 NÓNG: Lionel Messi chính thức chia tay Barca # HOT :Lionel Messi officially bid farewell to Barca
Barcelona chính thức thông báo chia tay huyền thoại Lionel Messi, khi đôi bên thống nhất không ký kết một bản hợp đồng mới.
Barcelona officially announced the farewell to the legendary Lionel Messi, when the two sides agreed not to sign a new contract.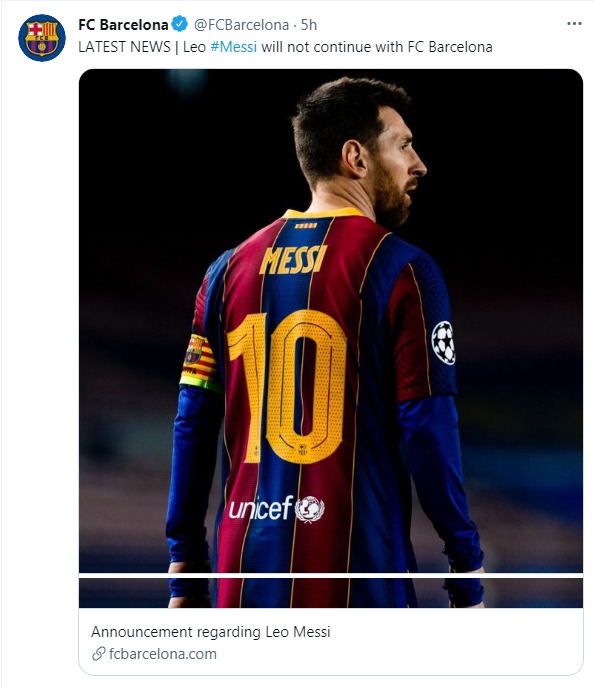 Rạng sáng 6/8 (giờ Việt Nam), thông tin Lionel Messi sẽ không ký hợp đồng với Barcelona tràn ngập trên các mặt báo Tây Ban Nha và Anh Quốc. Sau đó ít phút, trang chủ của CLB xứ Catalan đưa ra thông báo chính thức, rằng Lionel Messi sẽ không ở lại với Barcelona.
On the morning of August 6 (Vietnam time), information that Lionel Messi would not sign a contract with Barcelona flooded the Spanish and British newspapers. A few minutes later, the Catalan club's homepage made an official announcement, that Lionel Messi would not stay with Barcelona.
Toàn văn đoạn thông báo như sau: "Leo Messi không ở lại FC Barcelona.
The full text of the announcement reads: "Leo Messi is not staying at FC Barcelona.
Mặc dù FC Barcelona và Lionel Messi đã đạt được thỏa thuận và ý định rõ ràng của cả hai bên về việc ký hợp đồng mới trong ngày hôm nay, nhưng điều này không thể xảy ra vì những trở ngại về tài chính và cơ cấu của Liga.
Although FC Barcelona and Lionel Messi reached an agreement and clear intentions of both parties today to sign a new contract, this was not possible because of the financial and structural obstacles of the club. Liga.
Kết quả là, Messi sẽ không ở lại FC Barcelona. Cả hai bên đều vô cùng tiếc nuối khi mong muốn của cầu thủ và câu lạc bộ cuối cùng sẽ không được thực hiện.
As a result, Messi will not stay at FC Barcelona. Both sides deeply regret that the wishes of the player and the club will not be fulfilled in the end.
FC Barcelona hết lòng bày tỏ sự biết ơn đối với Messi vì những đóng góp của anh ấy cho sự phát triển của câu lạc bộ và chúc anh ấy những điều tốt đẹp nhất cho tương lai, trong cuộc sống cá nhân và sự nghiệp."
FC Barcelona wholeheartedly expresses its gratitude to Messi for his contributions to the development of the club and wishes him the best for his future, personal and professional life."
Như vậy, Lionel Messi giờ đây đang là cầu thủ tự do và chắc chắn sẽ không trở lại khoác áo Barcelona. Điều đó cũng có nghĩa, chủ nhân của 6 Quả bóng vàng sẽ chơi cho một đội bóng khác kể từ mùa giải năm sau.
Thus, Lionel Messi is now a free agent and will certainly not return to Barcelona. That also means, the owner of 6 Golden Balls will play for another team from next season.
Những thông tin mới nhất về Lionel Messi sẽ được chúng tôi liên tục cập nhật…
The latest information about Lionel Messi will be constantly updated by us…
Nguồn :https://thethao247.vn/315-nong-messi-chinh-thuc-roi-barcelona